Conference location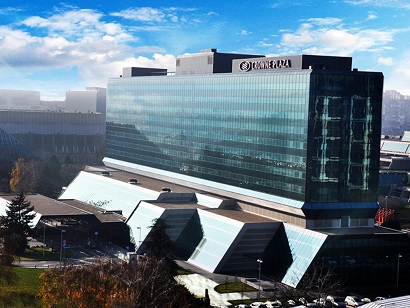 The conference will be held in the Crowne Plaza 4* hotel (Booking.com rating 9.0/10).
Belgrade Crowne Plaza is conveniently located at the heart of "New Belgrade", Belgrade's dynamic business district located on the river Sava. The hotel is located 15 km from the Nikola Tesla Belgrade airport, and a short drive from main tourist attractions (e.g., 3km from Kalemegdan and Belgrade Fortress, 5km from Saint Sava Cathedral). The hotel features a spa centre and fitness area on site, as well as an indoor pool.
Banquet venue
The Banquet will be held on the evening of the second day of the main conference (Tuesday, April 25 2017) at the "Top of the Hub" Restaurant&Lounge, located at the 25th floor of the Belgrade business tower UŠĆE.

"Top of the Hub" features an exceptional view on the confluence of Danube and Sava and panoramic views on Belgrade (hint above). The UŠĆE tower is situated at the confluence (serbian: ušće) of Danube and Sava, just opposite of the Belgrade Fortress, a short 10 minutes walk from the conference venue.
Eurosys 2017 venues on a map
Social



News
We are honored to present the winners of EuroSys Awards 2017! Congratulations!
Register for Eurosys 2017 at discounted rates until April 7 (Anywhere on Earth)!
See all
here
Supporters
Platinum
Gold
Silver
Bronze